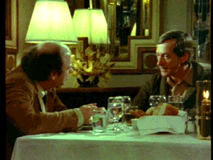 Actually, we've never been out to dinner. John Hastreiter is our Church Goods director at the Company I work for. We just have our talks.
When I began working at Leaflet, I already knew John as a customer shopping in his Store - at that time he was just starting the Church Goods dimension of the business. It has grown under his direction - and with his vision - dramatically so.
He's a very bright man, sophisticated as well as traditionally Roman Catholic - not a trad - he attends the Mass of Paul VI when he has to do so, yet prefers the traditional Mass. He is an invaluable resource for our Company. An incredibly astute young man. He has the ear of many seminarians and priests, and he listens to them as well. He knows his theology, and liturgy. He is very balanced, and I dare say, rather holy and spiritually mature. He's mellowed over the years, without compromising his values in the least. (Being a husband and a dad will do that for a guy.)
John is married with three beautiful children. His lovely wife is the"heiress" to the Matt family. (I'm kidding - she's not an heiress, but she is a Matt. So what does that mean? Her relatives publish "The Wanderer" and another relative publishes "The Remnant" - two staunchly Roman Catholic newspapers, both with reputations for being traditional Catholic newspapers - one with a more radical approach than the other, hence the Matt family has this curious reputation...None of it deserved on Karen's side.) When I understood Karen was a Matt, my first reply was, "But she's so normal!" As is her entire family - when I met her mother I somehow expected some chapel veiled woman who couldn't smile - such the opposite. The family simply prefers the solidity of the Tridentine Mass, as well as traditional Catholic upbringing - and the kids (I know her brothers) are living proof that there is nothing odd about traditional Catholics.
Anyway, when I first started at Leaflet, I was convinced that I was a conservative and traditional Catholic, who couldn't figure out why people had a problem with the post-Vatican II reforms. Certainly I knew of the abuses, and the far out theologies - I kept to the middle - keeping my blinders in place. John first shocked me when he told me that Cardinal Ratzinger was basically a liberal. My jaw dropped - Ratzinger? Liberals hated him. How could this be?
This afternoon we laughed about all of that, while I commented that I had changed so much. (I also remember being shocked when he countered a protest of mine and told me that some bishops and priests were gay - that was before the scandal hit the fan. Sure, I knew gay priests - but bishops? I complained John scandalized me and could also scandalize customers. How stupid was I?) Suddenly, today, John, who never reads blogs, told me that since I have been blogging I have changed even more. I was rather impressed that he noticed. He is a really sharp fellow. What is more impressive, he never batted an eyelash when I couldn't understand where he was coming from - even when I complained - after he explained to me what had been going on in the Church. He always remained my friend, allowing me time and space to make up my own mind.
Indeed, I have changed. Reading other blogs, getting comments from other bloggers, I have come to realize how terribly important it is for the traditional liturgy to be restored. Through other bloggers, my Catholic faith has been deepened, my understanding of the Church has thus far been expanded, which explains my occasional "It's too much! Stop the blog, I want to get off!"
I realize as Catholics we can no longer isolate ourselves and content ourselves with a personal piety, pretending there is nothing wrong in the Church, or that people who insist upon the integrity of the liturgy, faith and morals, are creating discord while clinging to an obsolete ecclessiology.
I've read home-school blogs that absolutely crush my smug little prejudice that these are somehow weird people who only want a "Little House On The Prairie" type world. Nothing could be further from the truth! I've read trad blogs that have so opened my eyes to the issues of liturgy, theology, and ecclessiology that are indeed matters of supreme importance. At the other blogs I visit I have been able to hear other people I would have otherwise ignored, or simply not have heard.
Congratulations to all the good Catholic bloggers, those listed on my sidebar, as well as those I continually discover. Thank God for the Catholic web logs!
And thank God for John Hastreiter and his beautiful Catholic family - he is one of the finest men I know - I love and respect him, despite the fact he is quite my junior.