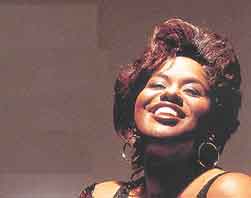 Jennifer Holiday.
You know - I still listen to her CD with "And I'm Telling You - I'm Not Going!" The very best rendition ever - from the original Dream Girl! Although I haven't seen "Dream Girls" the movie yet. I think Jennifer Hudson will do it justice however. (Her best break came when she was voted off American Idol.)
Anyway, while we're on the subject of Kwanza. Yeah, it's not going to catch on, no matter how much media likes to pretend. I mean, Christmas is Christmas, ask any practising Christian of African descent.
Kwanza is an intellectual forgery, seeking to supplant the Christian celebration of Christmas with a nature based, ethnic parody of a religious festival. Do people really buy it? Gosh, I don't think so.
Nevertheless, I'll go see "Dream Girls" as part of my celebration of Misrule. For the lowdown on the Kwanza thing,
MSN
has the details.
Oh, and happy Festivus too!