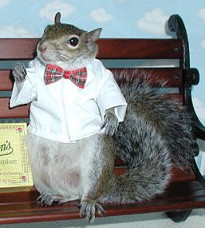 Catholic Devotions Meme (These things go around like a cold.)
1. Favorite devotion or prayer to Jesus?
Frequent spiritual communions throughout the day and uniting myself and all I do to His silent loving action in the Eucharist. The Divine Mercy chaplet and the prayers of the chaplet - it brings one into immediate union with the holy sacrifice of the Mass being celebrated throughout the world.
2. Favorite Marian devotion or prayer?
The Little Office of the BVM - the pre-Vatican II version, and of course the rosary, as many as I can pray each day.
3. Do you wear a scapular or medal?
Yes. The brown scapular and medal - the medal was for times I could once go shirtless - too fat now. Also a Miraculous medal and a St. Joseph medal.
4. Do you have holy water in your home?
Yes. But not in a font - it evaporates too quickly. I bless myself and the cats frequently with it.
5. Do you 'offer up' your sufferings?
Of course - the morning offering and acts of union with the Eucharistic Heart of Jesus takes care of that. However, I prefer to thank Our Lord for the sufferings I may experience. A holy Carmelite, Mother Mary Electa of Christ said, "Prayer is good, suffering is better." I would add, "Gratitude in both is best."
6. Do you observe First Fridays and First Saturdays?
I have done so several times over - there are specific requirements you know, 9 and 5 in a row, respectively. Having done that, I keep them more freely now.
7. Do you go to Eucharistic Adoration? How frequently?
Yes. Often. Not always in a specified Eucharistic chapel however. I never mind praying before a closed tabernacle. In addition, I neither count the visits, nor do I keep track of how long I'm there.
8. Are you a Saturday evening Mass person or Sunday morning Mass person?
Earliest and quietest Mass possible on Sunday morning.
9. Do you say prayers at mealtime?
Yes, even for snacks - but no one notices when I do - I don't make a production out of it.
10. Favorite Saint(s)?
That's a long list. Our Lady and St. Joseph and my guardian Angel and St. Michael are the first, and in that order. Otherwise, Therese and Francis. John and Teresa. Alberto Marvelli and Pier Giorgio Frassati. Benedict Joseph Labre and Joseph Moscati. John Macias and Martin and Rose of Lima. Pierina Morossini and Maria Goretti. Dominic Savio. Br. George and Conrad of New Melleray. Laura Vicuna and Charles Untz. Dorothy Day and Mother Grace of the Eucharist. Matt Talbot and Angela of Foligno. Bernardo of Quintivalle and Roch. Margaret of Cortonna and Catherine of Genoa. And two popes, John XXIII and John Paul I. These are just a few who immediately come to mind.
11. Can you recite the Apostles Creed by heart?
Of course - how can one be a Catholic otherwise?
12. Do you usually say short prayers (aspirations) during the course of the day?
Yes - but I mostly think and share my thoughts with Our Lord and Lady and St. Joseph all day long - And, I frequently say the act of contrition throughout the day for all the slips of my tongue and sins of pride.
13. When you pass by an automobile accident or other serious mishap, do you say a quick prayer for the folks involved?
Yes indeed - the school sisters taught us that. I also pray for people whose cars I notice abandoned on the freeway from the previous night, certain they may have been arrested for a DUI. And I pray for anyone having car problems. I like to pray for pedestrians I see as well - just in case no one prays for them. I designate all of these with a discreet sign of the cross using my forefinger as I pass by. And of course, I pray for ambulances, fire trucks, and police cars - the public servants in them, whenever I see or hear them.
14. (This should be here.) Do you tip your hat or make the sign of the cross when you pass a Catholic Church out of reverence for the Blessed Sacrament?
Without fail - usually by tracing the sign of the cross with my thumb over my forehead with a silent "O Sacrament most holy..."
So - whoever wants to do this meme, go ahead - it's a good examine in a way. When younger and seeking my vocation, I often asked contemplative monks and nuns how they prayed. A meme is kind of like that, we can learn from others when we share some of our practices with one another.