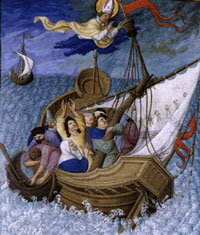 Or, "You do love me! You do!" (Remember Sally Fields acceptance speech at the Oscars?)
Ms. Catherine of Alexandria
tagged me for this Christmas meme:
1. Egg Nog or Hot Chocolate?
Hot Chocolate with coffee and cream.
2. Does Santa wrap presents or just sit them under the tree?
Santa wraps them in gorgeous wraps, sometimes expensive fabric with real tassels and golden ropes, with teddy bears wearing crowns.
3. Colored lights on tree/house or white?
Always white - on a rheostat of course, so they simply glow. (Although I love cobalt blue lights, or amber - but never mix them. Secretly I love multi colored as well, it's so Italian.)
4. Do you hang mistletoe?
No. But I used to carry a sprig in my pocket when I was cute - it worked - after I pulled it out and held it over my head of course. I like it in garland and wreaths now, but it's poisonous to kitties.
5. When do you put your decorations up?
Today of course. The eve of St. Nicholas! (Except I still have to do the tree.)
6. What is your favorite holiday dish (excluding dessert)?
So easy, Baccala (sp?) - Italian fried breaded cod, and angel hair pasta with lots of olive oil, garlic and pine nuts, with a little basil!
7. Favorite Holiday memory as a child:
When we were really, really poor and my mother had to go to St. Vincent De Paul to find us presents and the only toy they had was a cheap harmonica. I opened it while she cried and I pretended to love it. I went into the bathroom and cried - not about the gift - but because she was so disappointed. And the Infant Jesus gave me a kiss.
8. When and how did you learn the truth about Santa?
My 3rd grade teacher when she called me a liar after I related how I actually saw Santa putting presents under our tree. I had been so impressed with my mom's dramatics one year when I was about 4 years old, she said she was watching Santa put the presents under the tree while she held me back from running into the living room. It was so real to me, I believed I actually saw him, until Mrs. Rottenberry grabbed my hair, shaking my head and told me I imagined it. (I still don't think I really did though!)
9. Do you open a gift on Christmas Eve?
Of course, when else?
10. How do you decorate your Christmas tree?
Lavishly - kind of Christopher Radko, but with vintage and new German ornaments and baroque santo angels.
11. Snow? Love it or Dread it?
I love it except for drive time.
12. Can you ice skate?
Yes. But not for years. I played hockey too.
13. Do you remember your favorite gift?
The harmonica. Oh. And a key chain someone I was in love with years ago gave me that had my initials on it - in the script I used to sign my initials on paintings - the person took the trouble of having me initial something and had it duplicated by the engraver at Tiffany's. Kinda cool, huh?
14. What's the most exciting thing about the Holidays for you?
St. Nicholas, the Immaculate Conception, Our lady of Guadalupe, and Christmas vigils at about 3AM - playing with the Infant Jesus and hugging him.
15. What is your favorite Holiday Dessert?
Chocolate and marzipan.
16. What is your favorite holiday tradition?
Christmas eve everything.
17. What tops your tree?
An antique jeweled crown - about 4.5" in diameter at the base, it's French I believe, from a statue of the Madonna. I rescued it from an antique dealer.
18. Which do you prefer - giving or receiving?
Definitely giving. I'm no longer interested in receiving.
19. What is your favorite Christmas Song?
Fun wise? Motown stuff and the Beach Boys! Religious -at Mass? "Hark The Herald Angels Sing" Traditional? "Green Sleeves" - and, I'm embarrassed to say, "Away In A Manger" and "I Wonder As I Wander" oh - and Bing Crosby I guess -
This is cheap and tawdry making me admit such stuff!
20. Candy Canes?
No way - I hate red and white.
And, Oh my Gosh! I tag Don Marco!
(Who won't know what to do - so hi-light, copy and paste on your blog and answer these questions Mr. Monk!)